Evaluation of real-world vehicle emissions and standards in Jakarta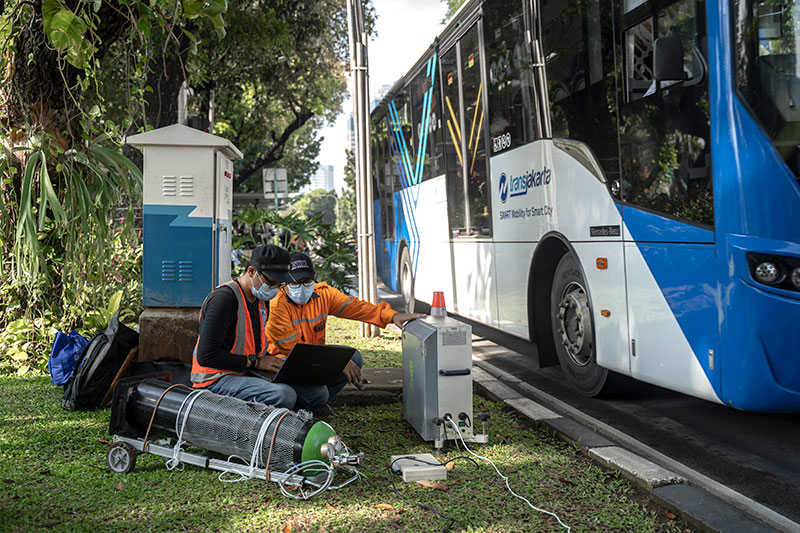 Motorised vehicles contribute significantly to poor air quality in Jakarta, Indonesia, says a new report by The Real Urban Emissions (TRUE) Initiative, in partnership with Bandung Institute of Technology (ITB) and supported by Badan Pengatur Jalan Tol (BPJT), the Indonesian Toll Road Regulatory Agency.
While motorized vehicles are a major contributor to poor air quality understanding of the scale of the issue has been limited. "There is a gap in data collection between laboratory and on-road testing from motor vehicle emissions," said Professor Puji Lestari, Faculty of Civil and Environmental Engineering at ITB. The Indonesian capital has struggled with poor air quality and its associated health impacts. Jakarta ranked as the capital with the 12th worst air quality, according to AQ Air, with an average annual PM2.5 concentration of 39.2 μg/m3, over 7 times the World Health Organization Air Quality Guidelines. The World Bank estimated the cost of health impacts linked to the city's air pollution to be USD 16 billion in 2015, triple the entire national health budget for the same year.

Between January to April 2021, the emissions from more than 93,000 vehicles were tested using remote sensing technology. Vehicles included passenger vehicles, taxis, buses, heavy-duty trucks, light-duty trucks, and motorcycles.

Key findings from the report were that the implementation of Euro 2 emission standards in 2007 had a significant reduction in vehicle emissions and further:
Nitrogen oxides (NOx) emissions were 94% lower, carbon monoxide (CO) emissions were 77% lower, and hydrocarbon (HC) emissions were 72% lower than the emissions from pre-2007 model year vehicles. Further reductions of 58% for median NOx emissions and 49% for median CO emissions were observed for this vehicle group with the introduction of Euro 4 standards in 2018.
Relative to gasoline models, the implementation of Euro 2 standards for diesel passenger vehicles resulted in more modest emissions decreases—45% for NOx, 25% for CO, and 18% for HC. Median NOx emissions from Euro 2 diesel passenger vehicles were 8 to 19 times the emissions of gasoline versions produced in the same year. The NOx emissions of Euro 2 diesel passenger vehicles are approximately 7 times higher than those from gasoline models certified to Euro 2 standards.
Buses, heavy-duty trucks, and light-duty trucks, which typically use diesel engines, had the highest median NOx emissions measured during the study. The median fuel-specific NOx emissions from heavy- and light-duty trucks were 13 to 14 times the emissions of private passenger vehicles and taxis, where gasoline engines are the most common fuel source. Less variation was observed in the median CO and HC emissions across vehicle types.
The results indicate that only a modest improvement in diesel truck emissions was achieved in the past decade. For diesel heavy- and light-duty trucks certified to Euro2/II standards, the median NOx, CO, and HC emissions were 15%–24%, 18%–21%, and 23% lower, respectively, than those of pre-Euro 2/II vehicles.

Although some improvement in median NOx emissions is observed with the introduction of Euro II standards, the magnitude of emissions remains quite high and well above the level that can be achieved. The report recommends Indonesia develop a plan and schedule for the adoption of Euro 6/VI emission standards to address the increasing emission of NOx and other pollutants from diesel vehicles and to continue to improve real-world emission performance for all types of vehicles. Furthermore, the adoption of Euro 6/VI will ensure that the best available emission control technologies, such as diesel particulate filters and selective catalytic reduction systems, can be used for new vehicles and engines.

Sheila Watson, FIA Foundation Deputy Director, said "This report represents the expansion of TRUE work into Asia where we know much of the poorest urban air quality exists, in significant part due to dirty vehicles. This report shines a light on quite how significant the introduction of vehicle emissions standards can be and which policies can help the Indonesian Government to legislate for better, healthier air for all."
Click here to read the 'Measurement of real-world motor vehicle emissions in Jakarta' report.