A Step Forward in Europe Towards Measuring In-Use Vehicle Emissions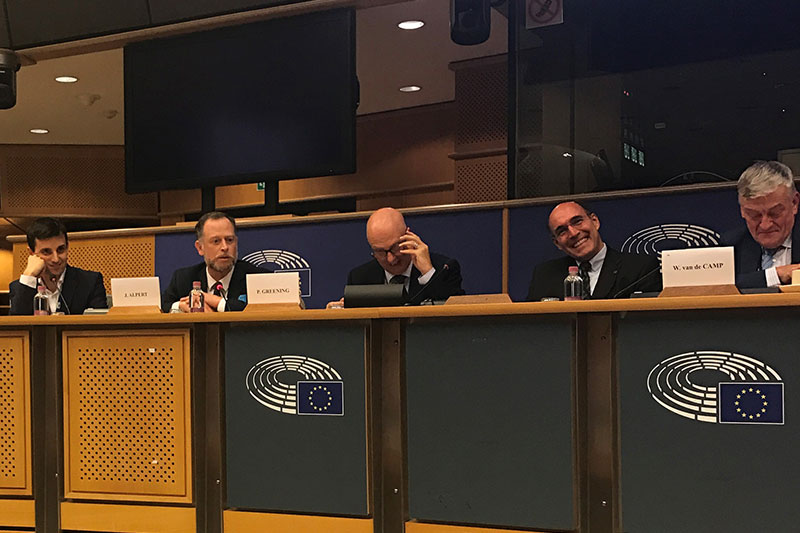 On 28 September 2017 three Members of the European Parliament, Kathleen Van Brempt (Beligum), Daniel Dalton (UK), and Wim van de Camp (The Netherlands), hosted a discussion of of remote sensing technology for measuring and reporting pollutant emissions from in-use vehicles.
European policy makers continue to work to develop solutions to the problem of high real-world emissions from diesel vehicles that threaten the health of European citizens. A proposal for a new regulatory framework with stronger compliance and enforcement provisions is making its way through the EU legislative process. In addition, Europe has begun to implement the new Real Driving Emissions (RDE) regulation over the past month. Regulators, NGOs, and other stakeholders are looking for ways to track real-world emissions and ensure that these new regulations deliver measurable results.
The event hosted by MEPs Van Brempt, Dalton, and Van de Camp commenced with an introduction to the technology of remote sensing. Two technology suppliers, OPUS Inspection and Hager Environmental and Atmospheric Technologies (HEAT), presented on their technologies. In the simplest terms, remote sensing technology uses various non-intrusive spectroscopic methods to capture a snapshot of exhaust emissions as a vehicle drives through a beam of light at the sampling location along a roadway. OPUS Inspection gave a capsule history of remote sensing going all the way back to the late Dr. Don Stedman, who invented the original remote-sensing technology at the University of Denver in the 1970s. Flash forward to today, when OPUS collects millions of remote-sensing records per year in a number of US states. HEAT presented its version of remote-sensing technology, named Emissions Detection and Reporting (EDAR), developed in 2009 and based on a technique used by NASA satellites.
Nexta panel of Europe-based researchers presented results from analyses they have been conducting with remote-sensing data. Pierre Bonnel of the European Commission's Joint Research Centre (JRC) presented preliminary results from a study that assessed the performance of remote sensing as compared to PEMS. These preliminary results show a close correlation between NOx emissions data captured with both remote sensing and PEMS technology. They also found that the two remote-sensing technologies from HEAT and OPUS correlate well with each other. (Full final results of the JRC study will be published soon.)
Preliminary results from the CONOX project were also presented. The project was funded by the Swiss Federal Office for the Environment (BAFU). Members of the consortium that conducted research under the project include Swedish Environmental Institute (IVL), International Institute for Applied Systems Analysis (IIASA), TU Graz, the University of York, the University of Leeds, the ICCT, OPUS Inspection, and the City of Zurich. The CONOX project focused on pooling, sharing, and analyzing European remote-sensing data collected in a range of European cities over the past 5 to 10 years. CONOX has pooled approximately 750,000 remote-sensing measurements covering a wide range of driving conditions, ambient conditions, and vehicle models built to conform to several generations of Euro standards. The cooperative data pooling makes it possible to conduct in-depth analysis fleet-wide emissions performance. CONOX partners presented data to illustrate how remote sensing can be used to quantify in-use emissions in a number of ways, such as by fuel type, Euro standard, manufacturer, model year, and vehicle family. The ICCT presented on upcoming remote-sensing campaigns that will be taking place in the cities of London and Paris in late 2017 and early 2018 as part of The Real Urban Emissions (TRUE) project.
The final panel of the day included a number of policy experts who discussed the potential policy applications for remote sensing. Penny Dilara of DG Grow outlined a possible role for remote sensing in the context of the on-going phase-in and development of RDE. She reported that there appear to be a number of potential applications for remote sensing, including support for service conformity (ISC) testing as well as identifying potentially non-compliant vehicles as part of a market-surveillance program. Other members of the panel, from DG Environment, Transport and Environment, and the automotive lobbying group ACEA, agreed that there was significant potential to utilize remote sensing to identify high-emitting vehicles. There was some discussion around the desire to see more data and studies to further understand the capabilities as well as the limitations of the technology. Representatives of C40 Cities and IIASA specifically addressed how remote sensing can be used by cities to collect real-world data in order to more effectively and rapidly tackle the air quality issues they are facing today.
In short, this event at the European Parliament was timely information exchange among a number of interested stakeholders. It was encouraging to see the broad agreement among the discussants concerning the potential for increased use of remote sensing for vehicle emissions monitoring. Quite clearly this technology can contribute significantly to European efforts to gain control over the problem of vehicle pollution.