TRUE pilots first plume-chasing campaign in Slovakia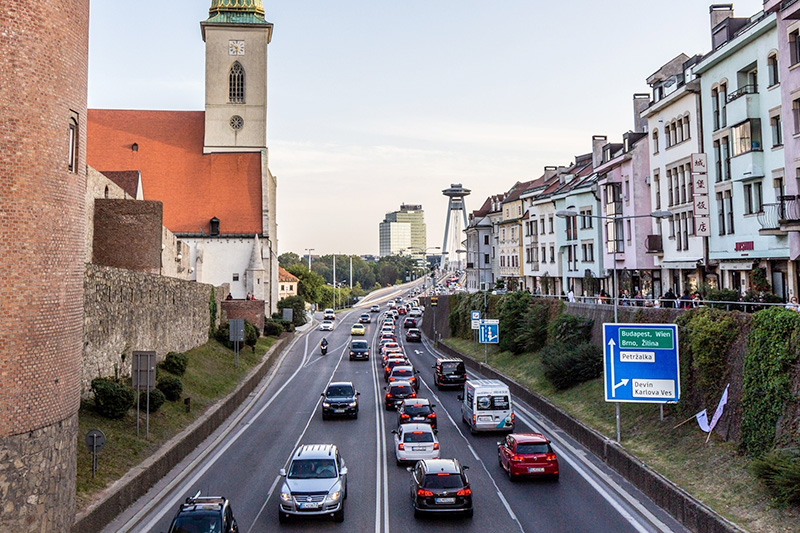 The TRUE Initiative is pioneering a 'plume-chasing' campaign in Slovakia, introducing a novel method for real-world emissions collection through an emissions analysis partnership. 
The pilot is the first time TRUE has used a 'plume-chasing' technique to capture and analyze real-world emissions. The contactless technique allows emission collection behind a target vehicle, allowing for the assessment of individual vehicle emissions over a longer period of time. 
The 'plume-chasing' vehicle captures the emissions plume of the target vehicle by drawing it through a 'sniffer' positioned at the front while the target vehicle is in motion (as illustrated in the figure below). This new TRUE campaign brings together a number of technologies into one, new, testing system. The plume chase vehicle combines exhaust-gas measurement instruments from Airyx, TUG, and AVL DiTest Counter creating a novel 'on-road laboratory.' 
The campaign expects to collect data on over 1,000 light-duty and heavy-duty vehicles in cities across Slovakia, measuring levels of nitrogen oxide (NO), nitrogen dioxide (NO2), black carbon (BC), particle number (PN), and carbon dioxide (CO2). This data will enable the identification of individual high-emitting vehicles offering potential applications in individual enforcement efforts. This style of testing complements the roadside emissions testing technique used in previous TRUE projects, which captures a snapshot of thousands of vehicles in a very short time period, providing a broader overview of overall fleet emissions.
The project is designed to conduct the first real-world vehicle emission monitoring campaign in Slovakia and to support the evaluation of the effectiveness of existing local and European-wide policies related to vehicle tampering, periodic roadworthiness, and roadside inspection. As part of the project, the TRUE Initiative hosted a pilot demonstration with Slovakian police and vehicle diagnostic experts to showcase how the technology can identify high-emission vehicles. Demonstrations primarily focused on detecting evidence of tampering in heavy-duty vehicles, revealing multiple instances of post-market aftertreatment defeat devices.
The TRUE Initiative will soon publish a comprehensive analysis of the data collected during the campaign, providing valuable insights for future emissions management and policy decisions.