TRUE submits evidence supporting further London ULEZ expansion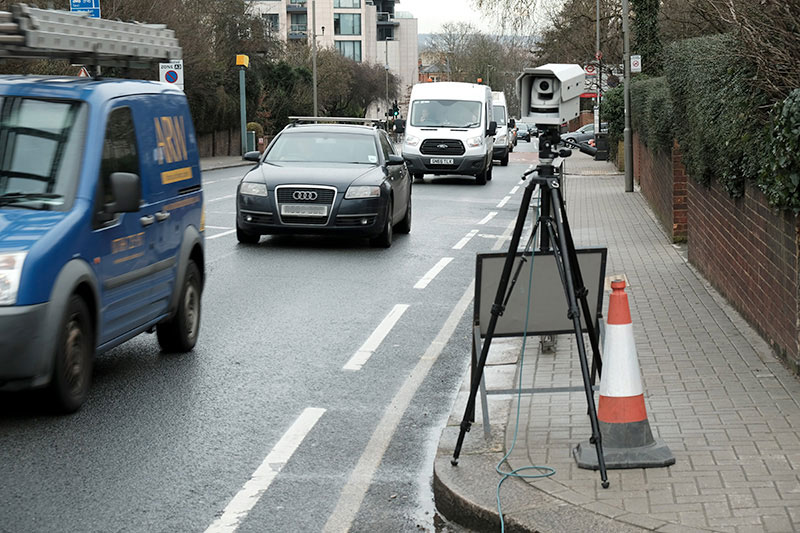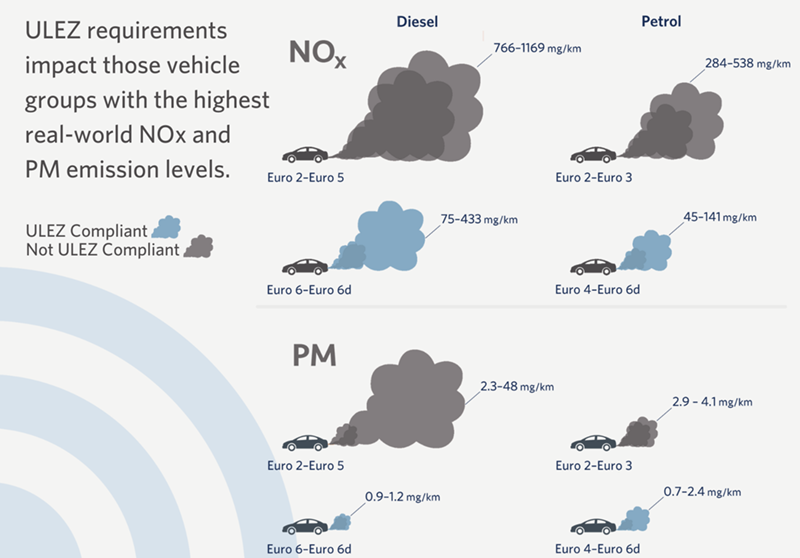 Real-world NOx and PM emissions of passenger cars compliant with ULEZ standards compared to passenger cars that are not ULEZ compliant (source: TRUE technical note, October 2021).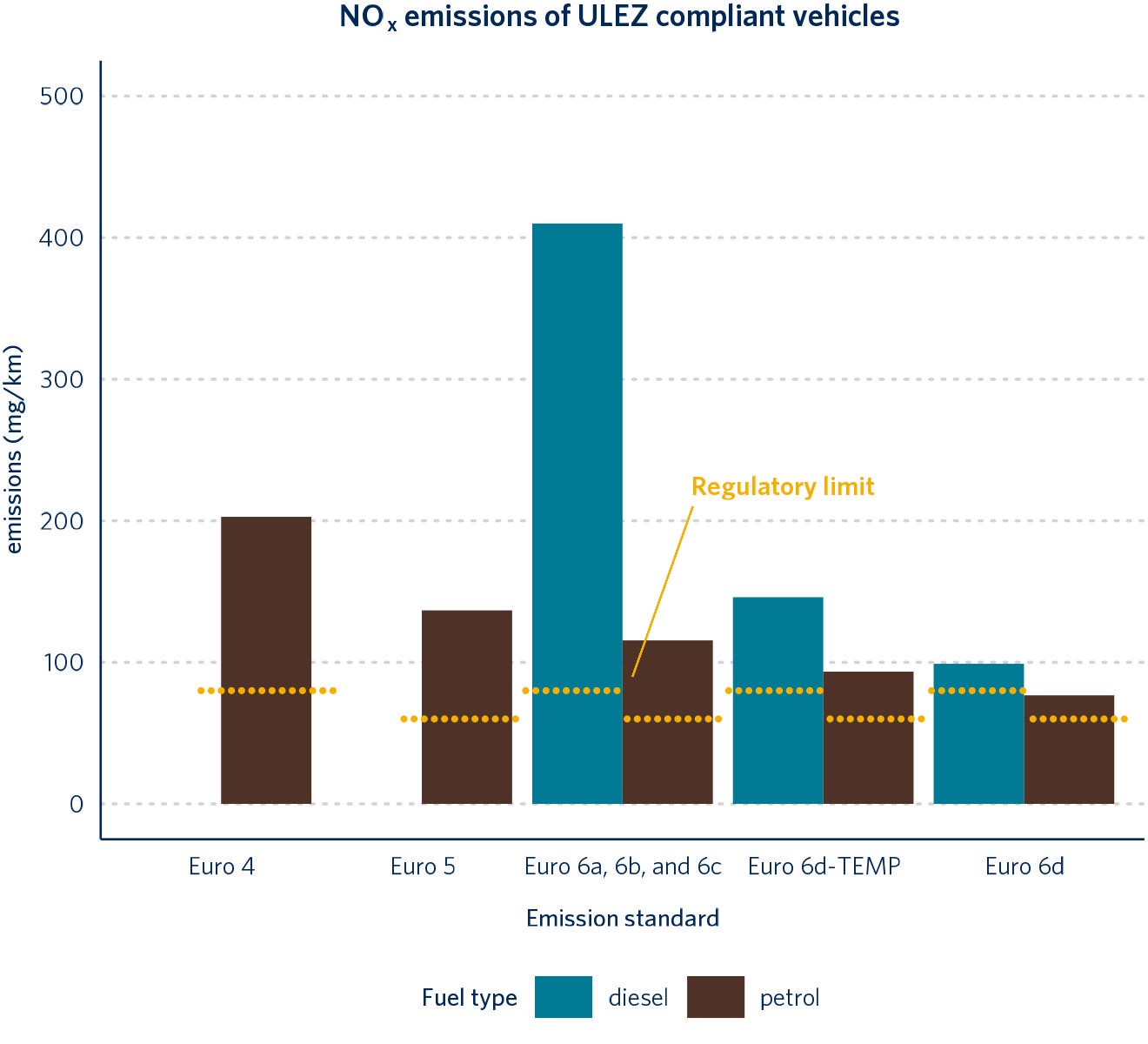 Emission factors of passenger cars compliant with current ULEZ requirements by Euro standard and fuel type based on remote-sensing measurements collected across European cities from the TRUE database.
The Real Urban Emissions (TRUE) Initiative has submitted evidence strongly supporting the proposed the next expansion of the London Ultra-Low Emission Zone (ULEZ) zone.
The Mayor of London, Sadiq Khan, is currently running a consultation on expanding the existing ULEZ zone. The London ULEZ now covers the inner area of the city where 3.8 million people live. It sets standards for light-duty vehicles, such as cars, motorcycles and vans. Currently, these standards require petrol vehicles to be Euro 4 and newer and diesel vehicles must be Euro 6. Drivers of vehicles that do not meet these standards must pay a daily charge to drive within the Zone. Heavy-duty vehicles, such as buses, coaches and lorries, are already subject to these standards London-wide.
Air pollution from on-road transport is a major cause of respiratory, cardiovascular, and other health issues, including premature death. It is estimated 4,000 Londoners die early as a result of poor air quality each year.
In October 2021, TRUE released a technical note analyzing real-world emissions of cars impacted by the first ULEZ expansion and the emissions reductions associated with transitioning away from the oldest, highest-emitting vehicles. The analysis, which used the TRUE database of vehicle emissions measurements collected in London and other European cities, showed that the ULEZ effectively targets passenger cars with the highest real-world emissions. It also showed that older Euro 2 to Euro 4 diesel cars emit 17–41 times more than ULEZ-compliant Euro 6 diesel cars.
In this submission to the Mayor of London, TRUE recommends modification to existing ULEZ compliance standards to phase out vehicles with proven excess real-world NOx emissions including older vehicles; for example, the number of Euro 4 petrol vehicles with a 'poor' TRUE rating has increased threefold in the past 3 years.
In addition to targeting air pollution, the ULEZ expansion helps bring London closer to its climate goal of net zero carbon emissions by 2030. TRUE partner the International Council on Clean Transportation (ICCT) has shown that a rapid transition from internal combustion engine vehicles to zero-emission vehicles is necessary to limit global warming to 2°C or below.
As the ULEZ expansion encourages residents to retire their older combustion engines, the TRUE evidence to the Mayor of London also identifies that it will be important to support an equitable transition to zero-emission transportation alternatives, by for example, providing financial support to help residents in replacing their older, high emitting vehicles. This approach is endorsed by evidence that rebate structures offering higher amounts to participants based on income are both more equitable and more effective in supporting shifts to cleaner transportation options.
London can also continue to lead on the transition to zero-emission vehicles by implementing data-supported charging infrastructure network goals, streamlining permitting, providing incentives for building charging infrastructure, and helping to fill in charging gaps.
Tim Dallmann, International Partnerships Program Lead of ICCT, said: "The proposed ULEZ expansion would be an important step forward in improving air quality for all residents of Greater London. The TRUE initiative is supportive of this expansion and recommends implementing plans to update vehicle requirements to Euro 5 and newer petrol vehicles and Euro 6d-TEMP and newer diesel vehicles to most effectively reduce NOx emissions. Additionally, increasing investments in alternate modes of transport, helping to fund residents' shift to cleaner transportation, and supporting a strong EV charging network will all be important to fulfill London's commitments to reducing air pollution and meeting climate goals."
Read The Real Urban Emissions (TRUE) Initiative comments on London's planned ULEZ expansion