The Real Urban Emissions initiative (TRUE) begins roadside testing of London's cars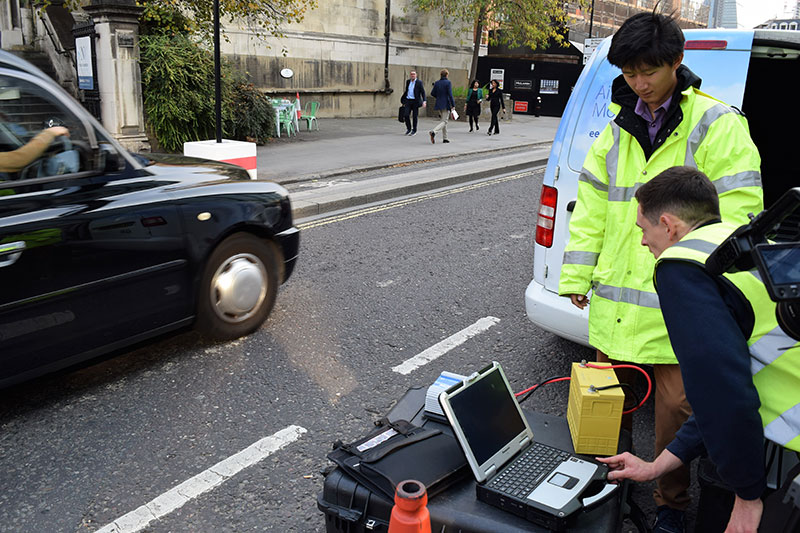 Recent research has revealed 7.9 million Londoners live in areas exceeding World Health Organization air quality guidelines.
Vehicles are making a major contribution to this pollution through their emissions, and so the type of car Londoners choose to buy and drive can make a big difference to the level of pollution in the capital. All too often though, what vehicles are said to emit in tests does not equate to what they emit in the real world and on the road.
A new roadside vehicle testing programme in partnership with the international TRUE Initiative (whose members include the FIA Foundation and ICCT) and the Mayor of London, Sadiq Khan, was launched in London today, 17 October. The roadside testing, which is funded in part by FIA Foundation, will monitor roadside emissions from vehicles currently driven on London's roads, and will be used to create the GLA's 'Used Cleaner Vehicle Checker' in 2018, following the testing of around 100,000 vehicles on London's streets.
The Mayor of London, also launched a 'New Cleaner Vehicle Checker' today, designed to help motorists buy brand new cars with the cleanest, least-polluting engines. This will provide an independent rating of nearly all new Euro 6 standard cars and many vans being sold in UK showrooms in London, based on Emission Analytic's EQUA index, an independent test of vehicle emissions.
Both of these schemes will empower consumers, who have previously had no way of knowing whether a vehicle is performing as intended in terms of emissions, when driven in 'real world' conditions. This enhanced consumer information forms part of the Mayor's hard-hitting plans to tackle London's toxic air quality. The checker can be accessed at www.london.gov.uk and is easy to use: consumers just need to type in details of a vehicle model to find out how it performed in these independent tests.
The Mayor of London, Sadiq Khan, said: " Motorists are more aware than ever about the pollution levels of the cars they drive. Our toxic air is a shameful health crisis and London motorists deserve to know how much filthy emissions new cars may produce before they purchase them.

"The Cleaner Vehicle Checker will help provide the accurate and independent information Londoners need to make informed choices and opt for cleanest vehicles.
"This scheme shows how the combined efforts of academic, engineering and health experts can join together to help consumers and ultimately help improve air quality."

ICCT is recognised as the international leader in vehicle emissions testing and is the organisation that revealed the Volkswagen 'Dieselgate' emissions scandal.
Drew Kodjak, Executive Director if the ICCT said: "London's action to publicise the real-world emissions of the vehicles being driven on their streets should inspire other cities as they battle the same urban air quality issues. I'm happy that ICCT is able to support London's important work in this area. Our collaboration with FIA Foundation, C40 Cities and others on in-use emissions measurement and reporting in The Real Urban Emissions (TRUE) initiative will bring an unprecedented and badly needed transparency to this critical environmental and public health issue."
Sheila Watson, Deputy Director of the FIA Foundation, said: "FIA Foundation is delighted to support this vital work to provide Londoners with evidence about the true emissions of the vehicles they drive. Our Real Urban Emissions Initiative (TRUE) is an open, transparent and innovative way to build picture of the real toxicity of vehicles on our city's streets. This information is essential if consumers are to make informed choices and policymakers are to improve the impact of these vehicles on the health of everyone who breathes London's air."